The Carolinas

#1

 
New Home Credit Program!
With 1,000's of New Homes Sold, Carolina New Home Credit is the
most trusted and experienced new home team in the market.
---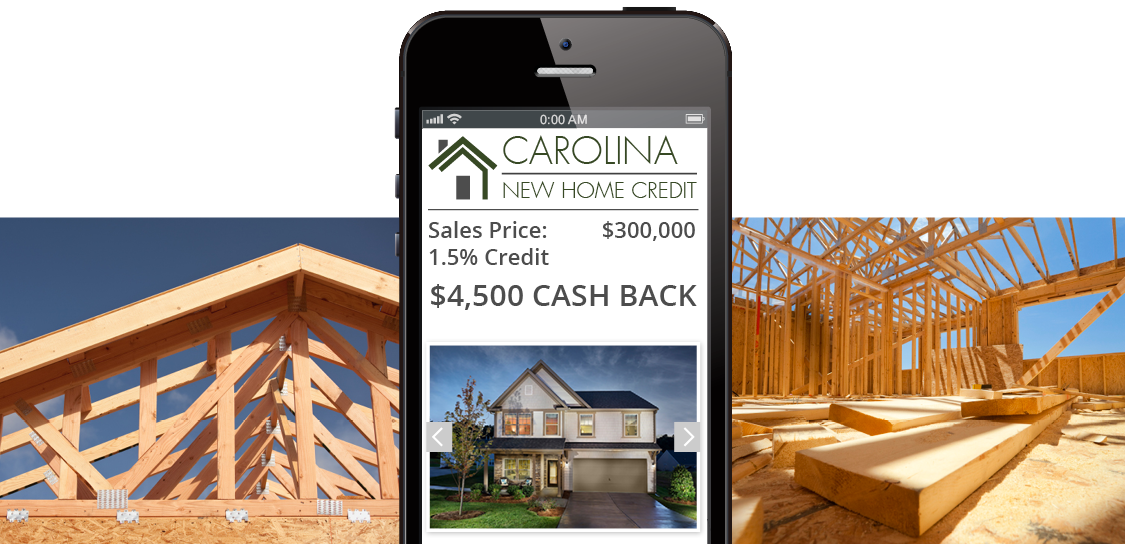 2Contact Carolina New Home Credit
---
Phone Number: 877-822-7654 | Address: 1125 E Morehead St Suite 208, Charlotte, NC 28204
Email  [email protected]
Follow Carolina New Home Credit: Facebook | Instagram
Get in touch and we'll get back to you as soon as we can.  We look forward to hearing from you!
HOW IT WORKS
---
After decades of experience with local and national builders, we've assisted in buying, selling and building 1000's of homes throughout The Carolinas.  And one of the best things we've learned, through developing more efficient systems and processes, is that when it comes to new construction—we can simplify what can be a complicated process.  
The traditional search for a new home has changed.  With the use of the internet, computers, and mobile devices, many buyers prefer to search for a new home themselves, whenever and wherever they want.  Simply put, that active participation in the new home search, saves us time.  And since your time is valuable, we want to pass on some savings to you!
So, our real estate model plays by the new rules of real estate, and recognizes the effort you put forth in the process.  To reward those efforts we will credit you 1.5% of the commission paid by the builder at closing. That money can be used towards closing costs, upgrades or subtracted from the home price.
Register With Carolina New Home Credit
BEFORE You Visit The Builder
To be eligible for your 1.5% New Home Credit you will need to register with Carolina New Home Credit when visiting the builder. We need to be registered as your agent on the first new home visit.
Call Today & Learn More..
 (877) 822-7654
Your 1.5% New Home Credit
We will rebate you up to 1.5%. For example, if you buy a home for $300,000,  you will be credited $4,500 (1.5% of $300,000). Please note: the 1.5% New Home Rebate is contingent upon our firm receiving the full 3% commission from the home builder (seller).
Free Service - No Cost To You
Our service is free – there is no charge to you. Builder's company policy requires the price of the home to be the same whether you use an agent or not. Builders have a Real Estate commission (typically 3%) already factored into their listing price. If you don't work with a Real Estate Agent / REALTOR®, the Builder retains that 3%.
Keep Your Incentives & Promotions
Your 1.5% credit will be in addition to any special promotional pricing, discounts, closing credits, free options, upgrades, or any other incentives that the Builder may be offering at the time of your purchase. The best part is that our service and New Home Rebate program won't cost you a penny!
New Home Construction is an Expertise
Things go wrong, so you shouldn't just hire any agent.  With decades of experience in new homes construction from assisting buyers and sellers, to building and development we've got you covered.  We know the builders, lenders, floor plans and the processes.  So get the insiders advantage with Carolina New Home Credit and register today.
You Have Questions – 

We Have Answers
---
"Nobody gives anything away for free..." "If it's too good to be true, then it is..." "You get what you pay for..." We Have heard them all.
Below we have compiled a list of commonly asked questions that will explain in detail what the New Home Credit is, how it works, and why we are able to offer the program.
WHAT IS OUR NEW HOME CREDIT PROGRAM?
As Real Estate Agents representing you in your new home purchase, we are paid a commission by the builder, when you buy and close on a new home. To thank you for using our service, we share a portion of our commission with you.
DO I RECEIVE ACTUAL CASH BACK?
The credit will be in the form of either a closing cost credit,  a credit towards option upgrades with the builder, or applied as a reduction to your sales price—you can typically choose what works best for you. However applied, the New Home Credit will give 1% towards your new home purchase. The credit must appear on the Closing Disclosure Settlement Statement, your sales contract and your Exclusive Buyer's Agency Agreement. If the builder will not honor a reduction in sales price, a closing cost credit, or apply towards options, then the participating real estate agent's brokerage will provide the rebate at closing.
IF I AM ALREADY USING ANOTHER REAL ESTATE AGENT / REALTOR®, CAN I STILL GET THE NEW HOME CREDIT?
Unfortunately, you cannot.  Our Real Estate Firm must be exclusively representing you as your Real Estate Agent in order for you to receive your New Home Rebate.
I ALREADY SIGNED A CONTRACT WITH A BUILDER, CAN I STILL GET THE NEW HOME CREDIT?
Ideally, on your first visit to the Builder's model home / sales center, the Builder needs to be notified that our Real Estate Firm will be representing you as your Real Estate Agent. If needed, feel free to call to discuss your particular situation.
CAN'T I JUST BUY A NEW HOME WITHOUT A REAL ESTATE AGENT / REALTOR®, AND ASK THE BUILDER TO PAY ME THE COMMISSION?
You can certainly ask, but it doesn't work that way.  The only people who can be legally paid commissions in a Real Estate transaction are licensed Real Estate Agents / REALTORS®. We are your key to unlocking additional savings through our New Home Credit Program.
WHY DON'T MORE REAL ESTATE AGENCIES OFFER CREDITS?
Many Real Estate Agencies simply cannot afford to. High overhead, expenses, fees, ego etc. can all play a part.  And in many firms any commissions earned are split between the Broker/Owner and the Real Estate Agents / REALTORS®. When a client does the search and visits the models themselves they are greatly reducing our time and resources. By helping us reduce our overhead, we in turn are able to pass the savings on to you.
IF YOU'RE GIVING AWAY PART OF YOUR COMMISSION ARE YOUR SERVICES LESS?
Not at all. In addition to getting the 1.5% credit, you are also getting a full team of seasoned professionals who know New Homes, inside and out. We are a full service Real Estate Agency that specializes in new homes with over 20  years of experience working in new home construction, financing and development.  So from the start to the close, we've got you covered. We can and will assist you with contract negotiations, options selection, home inspections, structural inspections and selecting financing options. The site agent for the builder represents the builder's interest, we represent yours.
ISN'T THE ONSITE AGENT MY REALTOR?
Example
Cash back to our typical client can be considerable.  It's quite common for homes to sell for $350,000. If Carolina New Home Credit represents the client on a their home sale and receives a 3% commission, a reduction of half his commission would generate a donation to charity of approximately $5,250.
An added bonus would be: 
As a result, the seller could deduct $5,250 from his/her taxable income, generating as much as $1,750 cash back from the IRS and State (assuming a combined tax bracket of 34%).
Charlotte:
Belmont
Charlotte
Clover
Concord
Cornelius
Dallas
Davidson
Denver
Fort Mill
Gastonia
Harrisburg
Huntersville
Indian Land
Indian Trail
Kannapolis
Lake Wylie
Lancaster
Marvin
Lincolnton
Matthews
Midland
Mint Hill
Monroe
Mooresville
Mount Holly
Mountain Island
Pineville
Rock Hill
Stallings
Statesville
Steele Creek
Tega Cay
Troutman
University
Uptown
Waxhaw
Weddington
Wesley Chapel
York
Columbia:
Blythewood
Camden
Cayce
Chapin
Columbia
Congaree
Elgin
Fort Jackson
Gaston
Harbison
Hopkins
Irmo
Lake Murray
Lexington
Lugoff
Northeast Columbia
Southeast Columbia
Sumter
West Columbia
Triad:
Archdale
Bermuda Run
Burlington
Clemmons
Colfax
Greensboro
Guilford
Haw River
High Point
Jamestown
Kernersville
Lewisville
Lexington
McCleansville
Mebane
Oak Ridge
Pfafftown
Rural Hall
Stokesdale
Summerfield
Thomasville
Trinity
Walkertown
Whitsett
Winston Salem
Greenville/
Spartanburg:
Anderson
Boiling Springs
Clemson
Duncan
Easley
Fountain Inn
Greenville
Greer
Lyman
Mauldin
Pelzer
Pendleton
Piedmont
Powdersville
Roebuck
Simpsonville
Spartanburg
Taylors
Travelers Rest
Woodruff
Charleston:
Charleston
Goose Creek
Hanahan
James Island
Johns Island
Ladson
Meggett
Moncks Corner
Mount Pleasant
North Charleston
Ravenel
Ridgeville
Sangaree
Seabrook Island
Summerville
Wando
West Ashley
Raleigh:
Angier
Apex
Carrboro
Cary
Chapel Hill
Clayton
Creedmoor
Duncan
Durham
Fayetteville
Fuquay-Varina
Garner
Hillsborough
Holly Springs
Knightdale
Mebane
Morrisville
Pittsboro
Raleigh
Rolesville
Sanford
Wake Forest
Wendell
Willow Springs
Youngsville
Zebulon
Charlotte:
Accent Homes
BNA
Century Homes
Classica
Dan Ryan
David Weekley
D.R. Horton
Eastwood
Evans Coghill
Express
HH Homes
John Wieland
JP Orleans
Kinger Homes
Knotts Builders
Lennar Homes
LGI
Mattamy
Meritage
MI Homes
Niblock
Pulte
Ryan Homes
Saussy Burbank
Shea
Smith Douglas
Simonini
Stanley Martin
Taylor Morrison
Toll Brothers
True Homes
Columbia:
Blue Ribbon Builders
C and C Builders
Crown Communties
DR Horton
Emerald
Essex Homes
Executive Construction
Express
Fortress Builders
Great Southern Homes
Hurricane Builders
McGuinn
Mungo
Ryan
Triad:
Clayton
Dan Ryan
DR Horton
Eastwood
Emerald
Express
Isenhour
Keystone
LGI
Oakwood
Royal
Shea
Shugart
Tradition
TRUE
Wade Jurney
Windsor
Fayetteville:
Caviness & Cates
Clayton
H&H Homes
McKee
Oakwood
Peachtree Properties
Wade Jurney
Westan
Wynn
Sumter:
Clayton
Great Southern Homes
Mungo
Oakwood
Greenville/
Spartanburg:
Adams
Clayton
Cothran
Dan Ryan
Eastwood
Great Southern
Meritage
Mungo
Oakwood
Ryan
Sabal
SK Builders
Wade Jurney
Raleigh:
Adams
Ashton Woods
AV Homes
Baker
Beazer
Bill Clark
CalAtlantic
Caruso
Caviness & Cates
Clayton
Dan Ryan
David Weekley
DR Horton
Drees
Eastwood
H&H Homes
HH Hunt
Dickerson
John Wieland
KB
Lennar
Level
LGI
M/I
McKee
Meritage
Mungo
Newland
NV Homes
Oakwood
Preston
Pulte
Robuck
Royal Oaks
Ryan Homes
Savvy
Smith Douglas
Stanley Martin
Stanton
Taylor Morrison
Terramor
TRUE
Charleston:
Ashton Woods Homes
Beazer
CalAtlantic
Capitol City
Centex
Crescent
Dan Ryan
David Weekley
Eastwood
Front Door Communities
Galloway
Garman Homes
Great Southern
Hunter Homes
H&H
Kolter
Landmark 24 Homes
Lennar
Mungo
Pulte
Ryan
Sabal
Toll Brothers
TRUE
Wade Jurney
Watermark Homes
Register With Us BEFORE You Enter The Builder's Model
In order to be eligible for your 1.5% New Home Credit you will have to register with Carolina New Home Credit before visiting new home builder's. We have to be registered as your agent on the first new home visit.
Contact Carolina New Home Credit
---
Phone Number: 877-822-7654 | Address: 1125 E Morehead St Suite 208, Charlotte, NC 28204
Email  [email protected]
Follow Carolina New Home Credit: Facebook | Instagram
Get in touch and we'll get back to you as soon as we can.  We look forward to hearing from you!